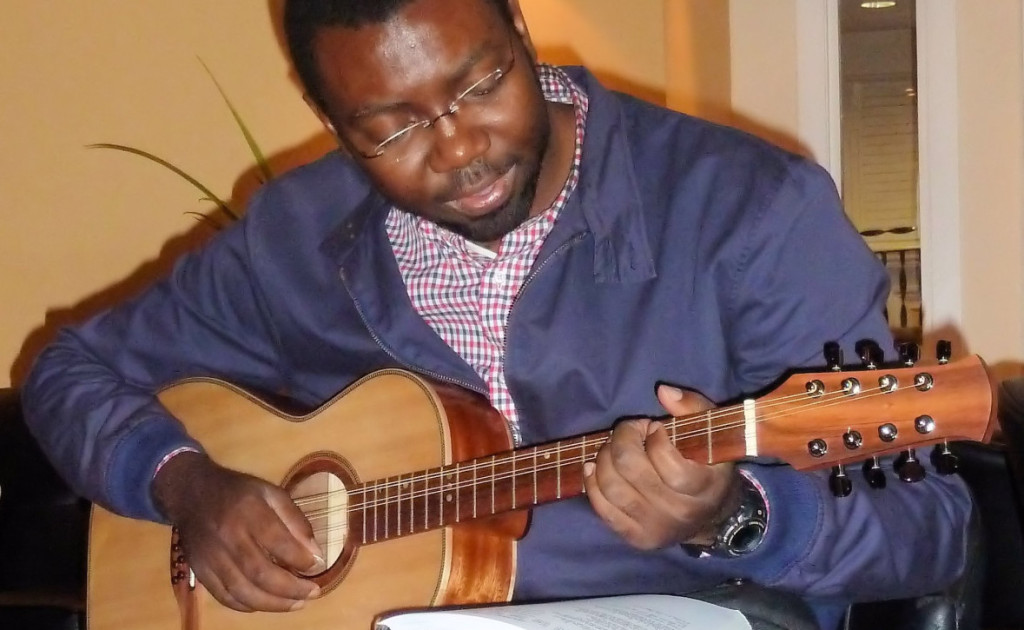 parlour bouzouki #9 was built for mr. Emmanuel Obiabo from Bishops Stortford, UK. It features a Sitka spruce top, Khaya mahogany neck, sides and back, Muiracatiara bridge, fretboard and peghead veneer and a K&K Sound mini pickup; see the slider at the bottom of this page for pictures of the construction process.
This what dr. Emmanuel Obiabo says about the purchase of his parlour bouzouki:
'Where do I begin…?
 The bouzouki is not an instrument that you can just walk into any music store pick one up and then start to play, because usually there will not be one in the store to be found. It is however an instrument with a particularly unique sound and drone so often found in Celtic music that sets it apart from a guitar, a banjo, the mandolin and the ukulele. Once you start playing one, there truly is nothing like a bouzouki. It really is a delightful sound.
And that was how the journey began – with a fascination and an idea. The challenge though was in finding a good bouzouki and one at a reasonably affordable price. With no local shops to turn to, a weekend online search took me to the 'Vintage and Rare' website and finally to Dilemma Lutherie and Rob van Leuven.
It is always a good sign when you email a luthier and you get a reply back in a few hours later, an even better sign when you are honest and ask clear and specific questions and also get clear and honest answers back.  An easy to follow website with clear pricings with MP3 files of what the instruments sound like is also always a very welcome bonus. And with that the order was placed.
Ordering an instrument online with only an mp3 file and pictures to go with and the reassurance of a luthier, involves a lot of faith, and I can testify that the faith in Rob was well worth it. With the build itself, I was regularly kept up to date with all stages of the process.  It became a delight after a very hard week, to receive an email with pictures of the instrument coming together. Rob at all times was honest and estimated the build time to be 6 months, which is fantastic for a hand-made instrument.
With his updates and emails, the time flew by and ahead of schedule; I finally took delivery in October 2014 on a wet miserable English day when his instrument was like a ray of sunshine! The parlour bouzouki that he made and delivered was a beauty! It was understated and modest in appearance which is how I like my instrument. It also had some delightful details that could only be seen upon very close inspection and that is the true sign of a great workman! The little details. The parlour bouzouki was well set up and could be played right out of the box upon delivery. The Sitka spruce top and the Khaya mahogany neck, back and sides, both recommendations made by Rob, worked really well with a sound that was delightful, enchanting, and magical! The parlour bouzouki responds well to light strumming, heavy strumming, finger picking, and flat picking! It does all things well with a great sound that accompanies the human voice and yet still projects to fill a room. The parlour body is great to just curl up with it and for those of you with long fingers that have ever played a mandolin; the neck is fantastic and very comfortable. Overall a keeper and I do not ever see myself parting from this instrument.
And what about the luthier himself?
I found Rob van Leuven to be a man of his word, a rare trait nowadays, who exceeded all my expectations and justified the trust that I put in him. A luthier with great skill, expertise and was a true gentleman which was a real added bonus. There are not too many testimonials or reviews on bouzoukis online, but if you are on the look-out for a delightful, great sounding, comfortable, well balanced instrument that is a keeper, and will do it all, at a great price from a highly skilled builder who is a real gentleman then Rob van Leuven at Dilemma Lutherie is your man.
Thank you for the time taken to read this, it really is a delightful to recommend his instruments.
Dr. Emmanuel Obiabo.'
building #9